Curse of Strahd is the most recent Ravenloft module and, so far, the only one set in 5e.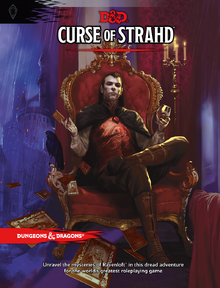 Plot
Curse of Strahd is a fairly free-form adventure where the characters are drawn into Barovia and must defeat Strahd to escape. The location of three essential magic items (Tome of Strahd, Sunsword, and the Holy Symbol of Ravenkind), the identity of an NPC ally, and the location of Strahd himself are determined by a reading from the Tarokka Deck.
Chapter Summary
Foreword by

Tracy Hickman

Introduction
Chapter 1: Into the Mists: Covers Strahd's backstory and gives instructions for the Tarokka reading and provides possible adventure hooks.
Chapter 2: The Lands of Barovia: Gives the lay of the land and the effects on magic.
Chapter 3: The Village of Barovia: Tells about the areas of the village of Barovia.
Chapter 4: Castle Ravenloft: Tells about the areas of Castle Ravenloft.
Chapter 5: The Town of Vallaki: Tells about the areas of Vallaki.
Chapter 6: Old Bonegrinder: Tells about areas of this

Night Hag

infested

windmill

.
Chapter 7: Argynvostholt: Tells about the

mansion

that houses the

revenants

of the fallen

Order of the Silver Dragon

.
Chapter 8: The Village of Krezk: Is about the Village of Krezk and it's

abbey

.
Chapter 9: Tsolenka Pass: Is about the

encounter

on the way to the Amber Temple.
Chapter 10: The Ruins of Berez: Is about the

ruins

currently being overused by Baba Lysaga and her

Creeping Hut

.
Chapter 11: van Richten's Tower: Is about the

tower

where

Rudolph van Richten

used to hide.
Chapter 12: The Wizard of Wines: Says how the characters can get the winery to give joy to Barovians again.
Chapter 14: Yester Hill: The hill where the

druids

are bringing life to Wintersplinter, the tree blight.
Chapter 15: Werewolf Den: The home of the werewolf pack.
Epilogue: Talks about the conclusion of the adventure.
Appendix A: Character Options: Offers the Haunted One background and gives a table for gothic trinkets.
Appendix B: Death House: An introductory adventure about a haunted house.
Appendix C: Treasure: an index on all the new magic items.
Appendix D: Monsters and Npcs: Gives info and stat blocks for all the new monsters and NPCs.
Appendix E: The Tarokka Deck: Gives background information on the Tarokka Deck.
Appendix F: Handouts: All the needed handouts and letters for the adventure.
Index
Adrian Martikov • Alenka • Alexei • Amalthia • Anastrasya Karelova • Angrath Woodwise • Anna Krezkov • Arabelle • Ariel du Plumette • Arik Lorensk • Arrigal • Aziana • Baba Lysaga • Bella Sunbane • Beucephalus • Bianca • Bildrath Cantemir • Bluto Krogarov • Bray Martikova • Brom Martikova • Carlon Amoffel • Clovin Belview • Cyrus Belview • Dag Tomescu • Damia • Danika Dorakova • Davanka • Davian Martikov • Davra Jassur • Dmitri Krezkov • Donavich • Doru • Elvir Martikov • Emil Toranescu • Endorovich • Eravien Haund • Ernst Larnak • Escher • Exethanter • Ezmerelda d'Avenir • Fiona Wachter • Freek • Gadof Blinsky • Gertruda • Godfrey Gwilym • Gunther Arasek • Haliq • Helga Ruvak • Henrik van der Voort • Ireena Kolyana • Ismark Kolyanovich • Izek Strazni • Karl Wachter • Kasimir Velikov • Kellen • Kiril Stoyanovich • Klutz Tripalotsky • Kolya • Kolyan Indirovich • Kretyana Dolof • Lanniver Strayl • Lars Kjurls • Lazlo Ulrich • Lief Lipsiege • Lucian Jarov • Lucian Petrovich • Ludmilla Vilisevic • Luvash • Lydia Pertrovna • Mad Mary • Madalena • Madam Eva • Majesto • Marzena Belview • Milivoj • Mirabel • Mishka Belview • Mordenkainen • Morgantha • Morwen Daggerford • Muriel Vinshaw • Myrtle • Neferon • Nikolai Wachter • Norganas • Offalia Wormwiggle • Otto Belview • Parpol Cantemir • Patrina Velikovna • Piccolo • Pidlwick II • Rahadin • Ratka • Rudolph van Richten • Sangzor • Savid • Sasha Ivliskova • Selvek Serelim • Skennis • Sorvia • Strahd von Zarovich • Stefania Martikov • Stella Wachter • Stanimir • Szoldar Szoldarovich • Udo Lukovich • Urwin Martikov • Vargas Vallakovich • Varushka • Vasilka • Victor Vallakovich • Vilnius • Vladimir Horngaard • Volenta Popofsky • Wencensia • Wintersplinter • Yelena Arasek • Yeska • Yevgeni Krushkin • Zelraun Roaringhorn • Zuleika Toranescu • Zygfrek Belview
Referenced only

Argynvost

•

Artank Swilovich

•

Artimus

•

Artista DeSlop

• Barov von Zarovich •

Bascal Ofenheiss

•

Ceithlenn of the Crooked Teeth

•

Ciril Romulich

•

Dahlver-Nar

•

Dalvan Olensky

•

Dark Powers

•

Delban

•

Devostas

•

Dorfniya Dilsnya

•

Drizlash

•

Eisglaze Drūf

• Elisabeth Durst •

Elminster Aumar

•

Elsa Fallona von Twiterberg

•

Erik Vonderbucks

•

Fekre

•

Filmore Stunk

•

Fritz von Weerg

•

Gralmore Nimblenobs

•

Grigor

• Gustav Durst •

Gustave Herrnghast

•

Ilya Krezkov

•

Intree Sik-Valoo

•

Isolde Yunk

•

Ivan Ivliskovich

•

Jakarion

•

Jarnwald

•

Kavan

•

Khirad

•

King Dostron

•

King Katsky

•

King Troisky

• Khazan •

Leonid Krushkin

•

Marina

•

Morninglord

•

Mother Night

•

Nikolai Wachter

• Patrina Velikovna •

Pidlwick

•

Ravenovia von Zarovich

• Rosavalda Durst •

Saint Andral

•

Saint Markovia

•

Savnok

•

Sedrik Spinwitovich

•

Sergei von Zarovic

•

Seriach

•

Shami-Amourae

•

Skyane

•

Stahbal Indi-Bhak

•

Stefan Gregorvich

•

Szoldar Grygorovich

•

Taar Haak

•

Tarakamedes

•

Tasha Petrovna

•

Tatsaul Eris

• Tatyana •

Tenebrous

• Thornboldt Durst •

Vaund

• Walter Durst •

Yarak Jassur

•

Yan

•

Yog

•

Yrrga

•

Zantras

•

Zhudun

•

Zrin-Hala
Creatures
Amber golem • Animated object • Arcanaloth • Banshee • Bat • Barovian • Black pudding • Blue dragon • Cat • Clay golem • Crawling claw • Death slaad • Deer • Deva • Dire wolf • Dretch • Dusk Elf • Elf • Flameskull • Flesh golem • Gargoyle • Ghast • Ghoul • Ghost • Giant goat • Giant spider • Goat • Gray ooze • Grick • Hell hound • Horse • Human • Imp • Invisible stalker • Iron golem • Lich • Mastiff • Mongrelfolk • Monkey • Needle blight • Night hag • Nightmare • Nothic • Phantom • Quasit • Rat • Raven • Red dragon • Revenant • Roc • Saber-toothed tiger • Scarecrow • Shadow • Shadow demon • Shambling mound • Shield guardian • Skeleton • Smoke mephit • Spectre • Strahd's animated armor • Stirge • Stone golem • Toad • Tree blight • Troglodyte • Twig blight • Vampire • Vampire spawn • Vine blight • Vistani • Vrock • Wereraven • Werewolf • Wight • Will-o'-wisp • Wolf • Wraith • Zombie
Referenced only

Dwarf

•

Half-orc

•

Goblin

•

Pit fiend

•

Silver dragon

•

Werehare
Locations
Building & Sites

Abbey of Saint Markovia

• Amber Temple •

Arasek Stockyard

•

Baba Lysaga's creeping hut

•

Argynvostholt

•

Bildrath's Mercantile

• Blood on the Vine Tavern • Blue Water Inn •

Burgomaster's Mansion

• Castle Ravenloft •

Old Bonegrinder

•

Shrine of Mother Night

•

Shrine of the White Sun

•

St. Andral's Church

•

Van Richten's Tower

•

Yester Hill

•

Wachterhaus

• Wizard of Wines

Roads

Old Svalich Road

•

Uldoon Trail

•

Trade Way

•

Tsolenka Pass

Settlements

Wilderness

Balinok Mountains

•

River Ilvis

•

Lake Zarovich

•

Misty Forest

•

Svalich Woods

•

Tser Falls

Realms

Planes

Referenced only

Nine Hells

•

Shadowdale

•

Shadowfell
Magic
Magic items

blood spear

•

Daern's instant fortress

•

Gulthias staff

•

hat of disguise

•

holy symbol of ravenkind

•

icon of Ravenloft

•

mace of terror

•

manual of bodily health

•

ring of regeneration

•

ring of mind shielding

•

ring of warmth

•

St. Markovia's Thighbone

•

spell scroll

•

sunsword

• '

staff of frost

•

staff of power

•

tome of understanding

•

wand of secrets

Spells

gentle repose

•

resurrection

•

Tasha's hideous laughter

•

unseen servant

Referenced only
Organizations
Families

Durst

•

Krezkov

•

Martikov

•

Wachter

Groups

Children of Mother Night

•

Emerald Enclave

•

Harpers

• [[Keepers of the Feather • Lords' Alliance • Order of the Gauntlet • Order of the Silver Dragon • Zhentarim
Referenced only

Ulmist Inquisition
Miscellaneous
Books

The Blade of Truth: The Uses of Logic in the War Against Diabolist Heresies, as Fought by the Ulmist Inquisition

•

Castle Building 101

•

The Devil We Know

•

Embalming: The Lost Art

•

Goats of the Balinok Mountains

•

The Grimoire of the Four Quarters

•

Heart of Sorrow

•

Hymns to the Dawn

•

I, Strahd: The Memory of a Vampire

•

The Incants of Exethanter

•

Life Among the Undead: Learning to Cope

•

The Oath Celestial

•

Snow Dwarf and the Seven Wights

• Tome of Strahd

Clothes

apron

Events

Festival of the Blazing Sun

Food & Drink

apple

•

Champagne du le Stomp

•

dream pastries

•

grape

•

Purple Grapemash

•

Red Dragon Crush

Items

aspergillum

•

coffer

•

horseshoe

• tarokka

Plants

brown mold

•

Gulthias tree

Referenced only

Wolf's Head Jamboree
Stat Blocks
Monster Stat blocks included:
Barovian Witch

Broom of Animated Attack

Guardian Portrait

Mongrelfolk

Phantom Warrior

Wereraven
NPC stat blocks:
Baba Lysaga's Creeping Hut
Furthermore it gives information on how to make stat blocks for the following monsters and NPCs:
Kasimir Velikov

Snow Maiden

Vladimir Horngaard